Give your child the accomplishment of learning how to ride a bicycle.
There's a sense of freedom in learning how to ride a bicycle. The wind in your hair, the ability to go farther than you could on foot. Through our annual Bike for Life Camp, your child can learn to ride in a safe, controlled environment. Our volunteers will walk them step-by-step into the joy, freedom, and great accomplishment of learning how to ride a bicycle.
Bike Camp Registration Open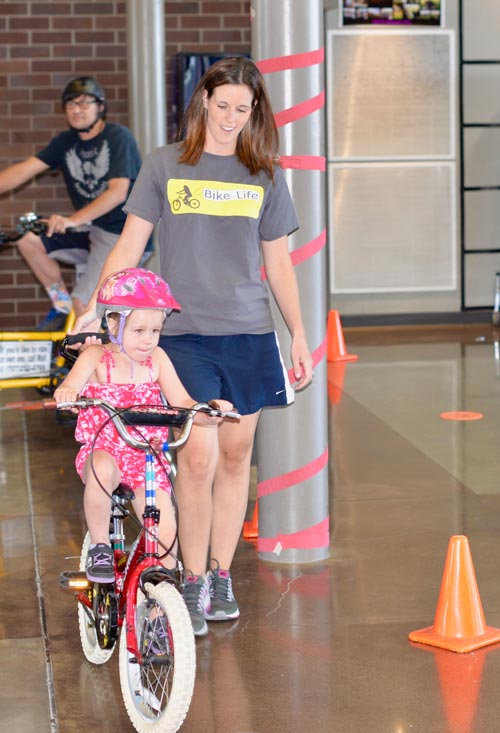 A Safe and Fun Environment To Learn To Ride A Bicycle
Bike for Life Camp is a 5-day camp where our team of professionals and volunteers will safely teach your child everything involved in how to ride a bicycle. Through Bike Camp, your child will come home with
1. Knowledge of how to ride a bike
2. If they need one, a helmet of their own
3. A full adjustment to their bicycle so that they can safely practice after camp is complete
One Activity With Many Benefits
Learning how to ride a bicycle gives your child many benefits:
• Freedom: A sense of being able to fully experience the place they live and the body that they use.
• Independence: A feeling of freedom to move by the power of their own ability.
• Transportation: A form of transportation to places like school, work, medical appointments, and their local community.
• Community: Community with neighborhood and school friends of all abilities.
• Exercise: A fun way to exercise which they'll likely love for years to come.
Watch Bike for Life Camp in action
"One of the most important days of my life was when I learned to ride a bicycle."
Michael Palin, English comedian, actor, writer and television presenter
Specialized Equipment For All Abilities
Our team uses highly-specialized adaptive technology to make riding bicycles safe and accessible for children of different abilities. With our equipment, you'll never need to worry about your child's safety or ability to take part in camp activities.
Get Sponsored For Your Child To Come To Camp
Bike for Life Camp costs $100 for the entire week. However, we have limited scholarships available on a  first-come, first-serve basis for those who need a little help. This year, give your child the freedom and accomplishment of learning how to ride a bicycle!