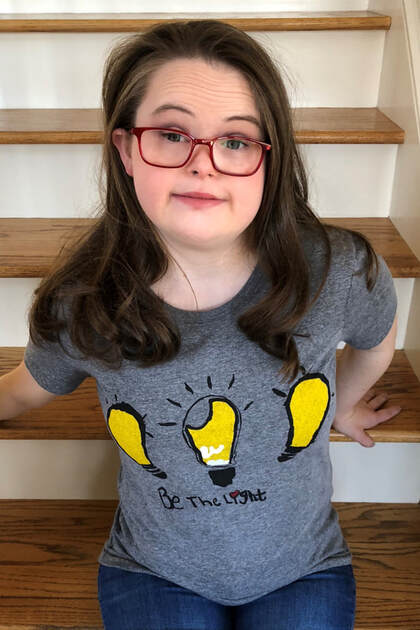 Artist and Entrepreneur with Down Syndrome
Grace Key
2023 Keynote Speaker
​Grace Key is a 25 year old trailblazing entrepreneur who co-founded her fashion line, candidly kind in 2018 with her mom, Carrie, as a way to spread light, love and acceptance after being bullied in high school. What started as a few shirts sold to family and friends has led to over 75,000 shirts sold across all 50 states and 23 countries. Grace's inspiring designs feature her original artwork. She's been featured on national tv and international digital media platforms highlighting her business and life. 
Grace is well known for her makeup skills which opened the door to ongoing influencer contracts with Urban Decay Cosmetics and L'Oreal Group. She's been featured in digital campaigns and television ads for FabFitFun.
Grace is also a motivational speaker, advocate and philanthropist, spending much of her time advocating for people with Down syndrome. She has donated over $65,000 of her candidly kind profits to charity and helped raise hundreds of thousands more. Grace is a Best Buddies Grand Champion, Buddy of the Year for the Down Syndrome Association of Atlanta, spokesperson for Gigi's Playhouse Atlanta and recently partnered with the National Down Syndrome Society's employment program which helps people with Down syndrome find jobs and start businesses. Grace serves on the board of Celebrate EDU, a national non profit who educates people with disabilities on how to start and run businesses.
Grace is honored to be a producer on the highly acclaimed Delta Spirit music video, What's Done is Done, featuring two very talented actors with Down syndrome, Zack Gottsagen and Jamie Brewer.
Grace is well-known across social media platforms where she shares authentic true life experiences filled with lots of sugar and plenty of spice. 
Opening Parent Keynote 2023
Eliana Tardio
Eliana's career in Special Education started more than 18 years ago with the birth of her first child, Emir, who was diagnosed in utero with Down syndrome. Eliana immigrated from her native country Bolivia, to the US, pregnant with her first child, Emir, in the hopes of giving him a better life. Her daughter Ayelen was born three years later, also with Down syndrome. Her diagnosis was unexpected, but according to Eliana, it reinforced her mission to make inclusion a reality for her two children while helping and inspiring others to get involved and transform the system to make it more inclusive.
Eliana is a pioneer in using social media for good to strengthen access to education. Her passion for education and equity has given her incredible opportunities to advocate and speak on behalf of Latino families raising children with disabilities. Eliana has grown to become a well-known activist and influencer worldwide, receiving numerous awards and recognitions. Eliana was named one of the "Most Influential Latina Bloggers" by the White House under the administration of President Obama, Top Latina Blogger by Disney, and Influential Story Teller for Social Good by YouTube.
She has grown with her children working as Family Resource Specialist for the Florida Early Intervention Program for seven years. She joined the Florida Parent Training and Information Center and worked with them for more than eight years as Regional Director and State Communications Director. She currently works as a content specialist for the National Center for Systemic Improvement, funded by the Department of Education, supports the Social Media and Communication team for the National Center for Educational Outcomes, and works as a project associate for the Policy and Practice Team for WestEd, a national education research agency. She has a bachelor's in Communications and Legal Sciences and a master's in Legal Studies, focusing on the Individuals with Disabilities Education Act.
**************************************************************************************************************************************
La carrera de Eliana en Educación Especial comenzó hace más de 18 años con el nacimiento de su primer hijo, Emir, a quien se le diagnosticó síndrome de Down en el útero. Eliana emigró de su país natal, Bolivia, a los Estados Unidos, embarazada de su primer hijo, Emir, con la esperanza de darle una vida mejor. Su hija Ayelen nació tres años después, también con síndrome de Down. Su diagnóstico fue inesperado, pero según Eliana, reforzó su misión de hacer realidad la inclusión de sus dos hijos mientras ayudaba e inspiraba a otros a involucrarse y transformar el sistema para hacerlo más inclusivo.
Eliana es pionera en el uso de las redes sociales para fortalecer el acceso a la educación. Su pasión por la educación y la equidad le ha brindado oportunidades increíbles para abogar y hablar en nombre de las familias latinas que crían niños con discapacidades. Eliana ha crecido hasta convertirse en una conocida activista e influencer en todo el mundo, recibiendo numerosos premios y reconocimientos. Eliana fue nombrada una de las "Bloggeras latinas más influyentes" por la Casa Blanca bajo la administración del presidente Obama, Top Latina Blogger por Disney e Influential Story Teller for Social Good por YouTube.
​
​Ha crecido con sus hijos trabajando como Especialista de Recursos Familiares para el Programa de Intervención Temprana de Florida durante siete años. Se unió al Centro de Información y Capacitación para Padres de Florida y trabajó con ellos durante más de ocho años como Directora Regional y Directora de Comunicaciones del Estado. Actualmente trabaja como especialista de contenido para el Centro Nacional para la Mejora Sistémica, financiado por el Departamento de Educación, apoya al equipo de Medios Sociales y Comunicación del Centro Nacional para los Resultados Educativos y trabaja como asociada de proyecto para el Equipo de Política y Práctica para WestEd, una agencia nacional de investigación educativa. Tiene una licenciatura en Ciencias de la Comunicación y Jurídicas y una maestría en Estudios Jurídicos, con énfasis en la Ley de Educación de las Personas con Discapacidad.