2023 Awards Nominations are Closed!
Breaking Barriers Awards are for those making a difference for people with disabilities in the State of Oregon. ​Please fill out an award nomination form to nominate someone for the award.
There are 4 categories: Educator, Service Provider, Self- Advocate, and Life-Time Achievement. You can nominate an individual or an organization. Please explain how they are breaking barriers in the community. You must be available to present the award on conference day!
Please return Award Nomination Form to CODSN no later than March 15th, 2023.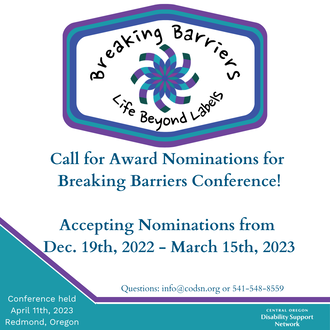 2023
Lifetime Achievement Award – Valerie Mallory
Outstanding Educator – Erin Taylor
Outstanding Service Provider – Sarah Goodman
Outstanding Advocate – Misty Holeman
Tad Carroll Employment Award – Danielle Brown
2019
Lifetime Achievement Award – Martha Hinman
 Outstanding Educator – Wendy Burril
 Outstanding Service Provider – Charlene Weirup
 Outstanding Advocate – Sam Robinson
2018
Lifetime Achievement Award – Paul Moore
Outstanding Educator – Margie Blackmore
Outstanding Service Provider – Jill Hannemann
Outstanding Advocate – Jordan Ohlde